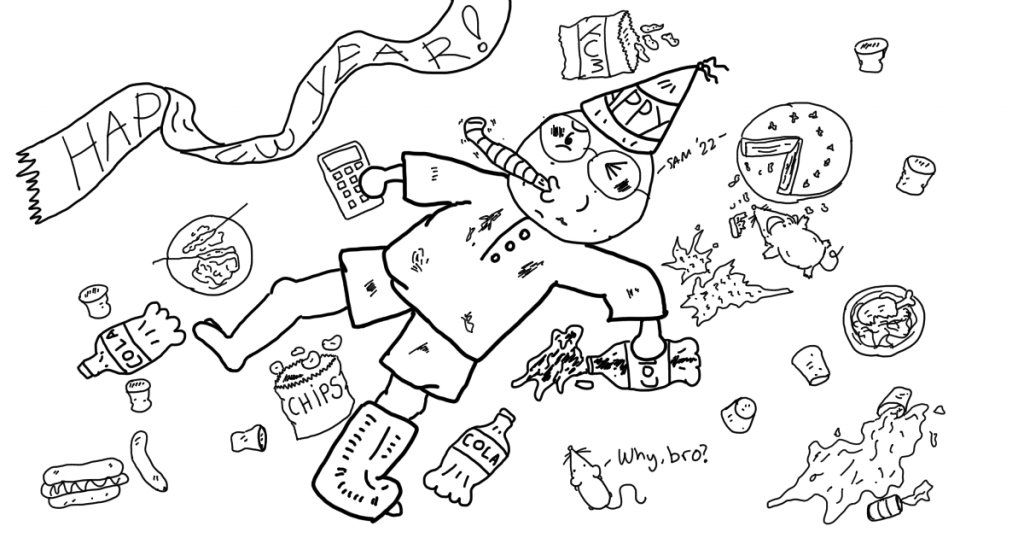 (New year productivity – 5 min read)
Happy new year accounting fans!
We are almost one month into 2022! Woohoo! But as with every start of the new year, things tend to be a bit sluggish on the productivity side of things. Over here at The Comic Accountant, we like to call this phenomenon the 'New Year Productivity Hangover'. This is not be confused with an alcohol induced 'New year Hangover' which, really you should have known better (finger wags judgmentally).
I'm no stranger to the 'New Year Productivity Hangover' and neither is the rest of our team, so we've put our heads together and come up with some ways to beat the New Year (Productivity) Hangover!
Take time to plan for the new year productivity
Rushing straight into work is a bad idea. You've had a long-as break. You've been holidaying, spending time with the fam, catching up with some DIY, etc etc. If you're like me, you may have even broken a limb over the holidays and are adjusting to life while temporarily disabled.
The first week you are officially back at work should be spent in contemplation. Have a think about what your plans for the year are. Remember that this year brings with it its own unique set of challenges. So here are some quick tips for planning:
Outline a handful of key milestones you want your business to achieve this year. For example, you may want to hire a new team member; start a new product line or hit a certain sales target.
If you have a team, think about what their roles and responsibilities are like in the new year. How will their roles change as the business grows in the year?
Have a look at what events/courses that you would like to attend online. There are heaps of free courses for businesses at Digital Boost NZ and remember to check your local chamber of commerce website for deets on their activities!
It's the new year, so take productivity one step at a time
If you're like me, you've been on break for maybe 2 to 4 weeks now. Think of your productivity like a muscle (even more true if your business involves physical work). After several weeks of disuse, it's going to be a bit weak. A weakened muscle can't be expected to engage in strenuous activites immediately. So you have to take it one step at a time.
You do this by starting out with simple tasks first, such as
Checking your new year email
It's been weeks since you've looked at your email! There are a few ways to do this. If you're like me, you can start from the older emails and work your way up line by line to the more recent ones. You can also skim your emails and prioritise replying urgent ones or any communications from your clients. This helps warm your productivity muscles for more work.
Touch base with your team/coach/mentor
It's been a while since you last spoke to other stakeholders in your business, so you best start talking to them!
If you have a team that you work with, catching up with them helps reestablish the bonds. It also serves as a reminder that the company is back in business! This meeting is also a good time to talk about what new roles and responsibilities the team has for the year.
If you have a coach or mentor, talking to them will help give you a sounding board for advice. If you have grievances or any other issues you can bring it up with them as well. A good coach will be able to give you the focus and tools you need to achieve your goals for the year.
Do 'simple' operational stuff
Most business operations will have 'simple' and 'complex' work. In my line of accounting, simple work are accounts for smaller sized clients. Complex work are accounts of larger clients. I won't start the year jumping straight into complex accounts. I'll knock off a few small tax returns for smaller clients as a warm up for the big ones.
You should have a similar setup in your business as well. Tackle the simple things first, then move on to the harder ones. Bear in mind that if the harder stuff is more urgent, you still need to prioritise that!
Just do something in the new year for productivity!
By the end of the day, you just need to get up and DO SOMETHING. If you are struggling to even check your emails, the simple act of a pre work ritual can do wonders in getting you geared for work. This can be a simple cup of coffee, a pre-work tidy of your desk or a brisk walk around the block to get the blood flowing!
Something is better than nothing. If you feel like you are still stuck in the doldrums of unproductivity – just do anything mildly work related and you'll be back on track in no time!
Happy New Year Productivity!!
As business owners, we wanna be productive. The better we work towards building sustainable systems in our enterprise, the better it is for our personal financial future in the long term. The beauty of being self employed is that we don't have a boss breathing down our neck. You can set when you are productive and how productive you want to be. Just remember that you are still accountable to yourself and the only way to get your business to where you want it to be is to be productive!
So yeah! get out there and get back into it!!
Stay positive!