(second year in business – 5 minute read)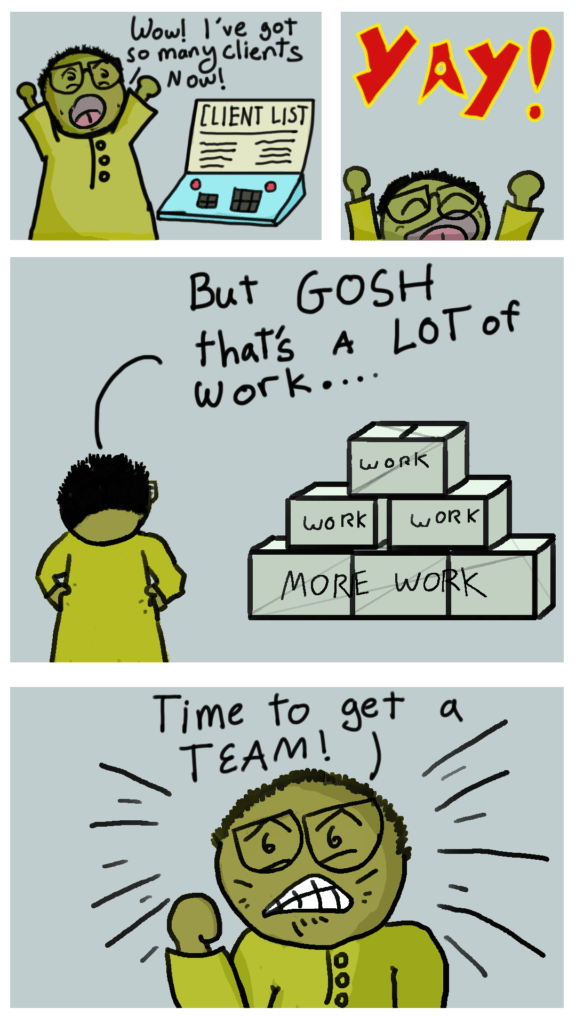 Hi there accounting fans,
This time I'm going to share with you my story of my second year in business. As a quick recap, my first year in business was an unexpected one. I had just lost my job, no one was hiring during the first COVID lockdown and so I started my own business. You can read the whole story here!
I came into the second year of business with a slightly better idea of where I was heading.
The second year in business is a paradigm shift
All my life I've been an employee. Apart from a short stint in my late teens selling t-shirts, I knew only how to work for others. Being a business owner is a huge change in perception. At the end of my first year in business I had three months left on my contract with the University.
I had confirmation that my contract wasn't going to renew. While I was already making the same amount from my business as I was from lecturing, it was still scary. In three months time, I would be losing almost half my income.
This forced me to change the way I budgeted household expenses. We couldn't rely on a steady paycheck every month. Instead, we'd have to embrace uncertainty and forecast a minimum amount I could take out from the business regularly. I resolved to make my business generate that minimum amount of income, and then some more.
Second year in business is the growth year
I like to think that your second year in business is your growth year. In the first year you've spent time setting up your business and building a small client base. In the second year, you kind of know what you're doing and you're ready to grow.
I still kept up the content output on The Comic Accountant and sharing our work through our social media pages. I made sure to post a new article twice a week (I was a lot less busy back them). On top of that, I began taking out ads on Google and on Facebook.
This combined marketing strategy helped our business attract more clients. By July 2021 we had around 40 clients. I started to feel the pressure of having to run the business alone. So I began hiring.
Getting my first team member
My very first hire wasn't another accountant. Instead, I went with a marketing assistant. He was a young Gen-Z person ('Zoomers' as they like to call themselves), fresh out of university. Ryan Gondipon was his name. Ryan had already done some work on my corporate website, www.shadvisory.co.nz and so I brought him onboard to help with our social media.
I figured I'm pretty good at accounting, but not so good at marketing. Hence why I went with a marketing hire to help supercharge our client acquisition. What he lacked in experience, he made up with enthusiasm and a willingness to learn. Under his guidance, we managed to double our follows on social media.
Getting more hires in the second year of business
I set a goal in July 2021 to double our client numbers by the same time next year. So to plan ahead, I hired a book keeper/junior accountant who was still studying in University. Lyhok Yiv (Harry) was an accounting student of mine at the University of Waikato. I chose him for his academic skills and ability to learn quickly. He quickly mastered Xero, our preferred accounting software and learned to handle our client's tax queries very well. This took some of the burden off of me and allowed me to focus on producing more content to generate more leads.
In late August 2021, an old friend of mine saw our growing social media presence and offered to help us out with some content work. Peter Holt (Dicey Holt) did some amazing voice work for some of our videos on Youtube. Later on, he'd help us out with administration and some consulting work for our clients. This helped us expand our offerings to our clients and diversified our income streams!
From being an employee to being an employer
Having set up a team, I sought to understand what their personal goals were. I did my best to ensure that their goals were aligned with the business' goals. I set about establishing our values of Honesty, Fun and Sharing. Discussions were had about our work culture. We eventually agreed on fixed wages paid for a certain number of hours a week. Everyone worked remotely so there was no requirement to work fixed times. As long as the work got done, they got paid.
In short, I had gone from being an employee to being an employer in the span of 15 months. I tried my best to treat my team with respect. To treat them the way I would have liked to be treated when I was an employee. To support them when they need help and to back them up if a client mistreats them.
COVID still was a challenge
The outlook was looking good for SH Advisory and The Comic Accountant in 2021. However, we weren't out of the woods with COVID as we'd enter another protracted lockdown in August 2021. Fortunately since our business was built as an online service, we didn't have to close shop when lockdown hit. However because our client fees are tied to their income, we had to take a hit during the second lockdown as their businesses had to hibernate.
Fortunately, COVID resurgence support payments and business cash flow loans helped keep the business afloat. More importantly, it helped keep our team members paid.
Ending the second year on a cliffhanger
Once we got through the second lockdown, it was back to business as usual. Our clients were making money again and so were we. By this stage I had some systems documentation in place for the team to refer to. The key lessons I learned from my second year in business was:
1. Plan for growth – you've built the foundations, now its time to grow
2. Inexperienced hires are sometimes the best hires – they tend to be young, motivated and learn things quickly. It also helps that they don't demand as much pay as experienced hires.
3. Identify your weak areas, then hire someone to strengthen them.
Things were looking great, that was until at the very end of the second year, in February 2022 (my business started on 1 April 2020 so our anniversary is 1 April each year) our website got attacked by a Trojan. Which is when I learned my last lesson for the year:
4. Shit happens. And when it does, you need to deal with it. FAST.
And so, reader, I leave you with a cliffhanger. Our very livelihood, our website was about infected and potentially affecting our readers. The third year of business is a fine study of crisis management and how the best laid plans can go to custard. Stay tuned for more!
Sam